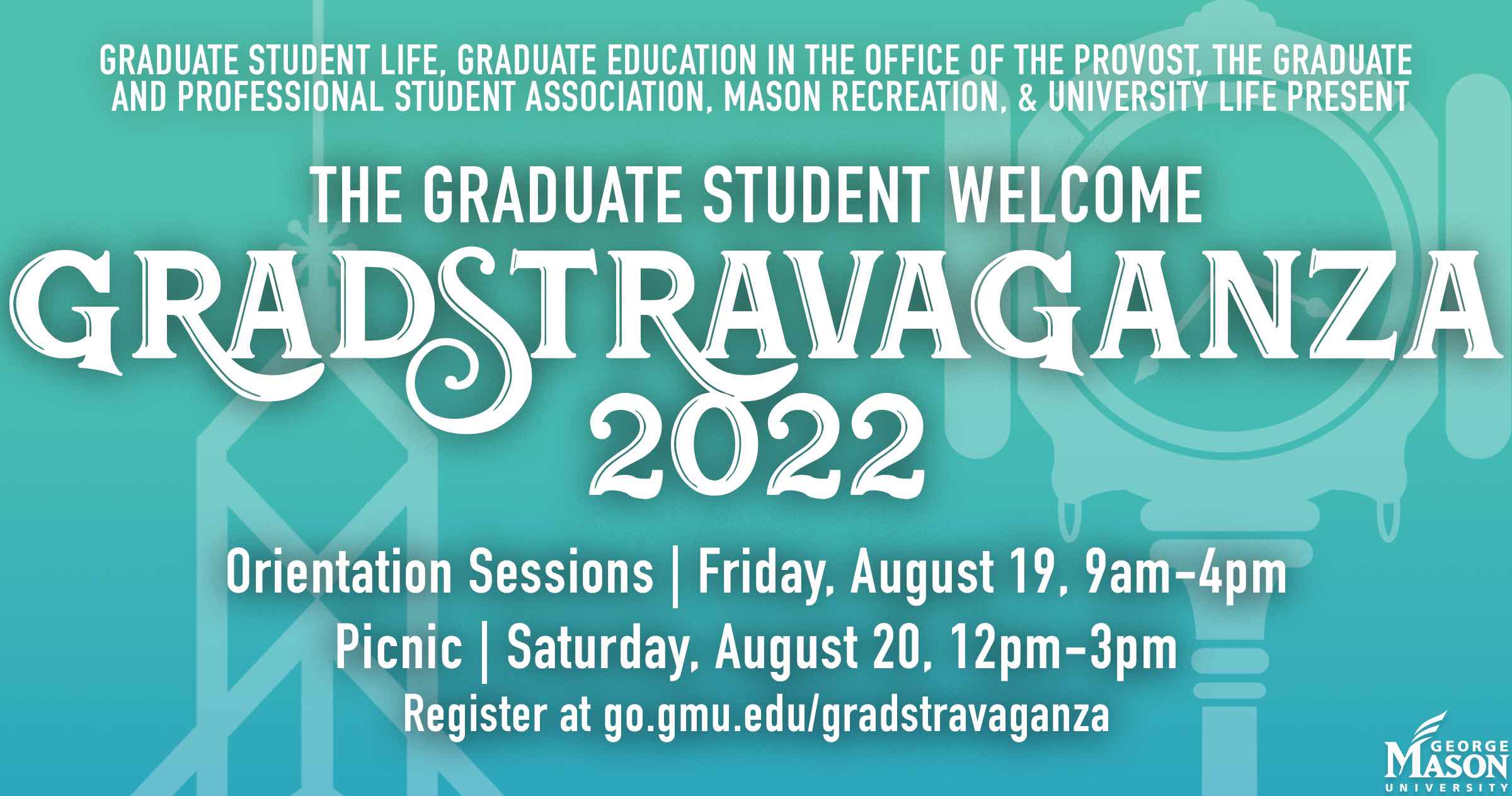 Gradstravaganza: Graduate Student Welcome 2022
(Recordings, presentation slides, and handouts are available here.)
Friday, August 19, 9am-4pm: Orientation Sessions (online)
Saturday, August 20, 12-3pm: Picnic (Wilkins Plaza, Fairfax Campus)
Registration will be required for all Orientation Sessions and the Picnic.
Click on the title of the orientation sessions and the picnic below to register.
All new and continuing Mason graduate students are invited to Gradstravaganza, Mason's annual graduate student welcome event! Gradstravaganza is a two-day event, including a fully virtual line-up of orientation and educational sessions on Friday, August 19, 9am-4pm and an in-person picnic on Saturday, August 20, 12-3pm on Wilkins Plaza! Brought to you by Graduate Student Life, Graduate Education in the Office of the Provost, the Graduate and Professional Student Association (GAPSA), Mason Recreation, and University Life.
Friday's online Orientation Sessions will feature a keynote address, workshops highlighting strategies for success in graduate school, special sessions for Graduate Assistants (GRAs, GTAs, and GPAs), and a panel of current Mason graduate students.
Saturday's Picnic will feature FREE food, t-shirts, games, crafts, giveaways, and plenty of activities to enjoy! You will also have opportunities to connect with academic units, campus resources, and graduate student organizations. Families are welcome!
Read below for more information, including a full schedule of activities and registration. Contact Graduate Student Life with questions at gradlife@gmu.edu.  
Gradstravaganza Orientation Sessions Agenda
Friday, August 19, 9am-4pm
9:00-9:50 Opening Session and Welcome
Welcome to Gradstravaganza! Join us for opening remarks to welcome you to the start of the new academic year. Ayondela McDole, President of the Graduate and Professional Student Association, Dr. Julie Choe Kim, Director of Graduate Student Life, and Dr. Laurence Bray, Associate Provost for Graduate Education, will offer their words of welcome. We will then hear keynote remarks from Dr. Christopher Carr, a leadership and policy wonk in the areas of diversity, higher education, and STEM (science, technology, engineering, and mathematics). He currently serves as the Associate Dean and Chief Diversity Officer for the College of Engineering and Computing at George Mason University. Previously, he worked with the National Society of Black Engineers, the American Society for Engineering Education, and the National Science Foundation's Graduate Research Fellowship Program. Christopher obtained his Bachelor of Arts degree from William Jewell College, a Master of Public Policy degree from Pepperdine University, and a Doctor of Education degree from Creighton University.
10:00am-12:20pm Mini-Workshops for Graduate Student Success
Sessions run concurrently and are grouped within their time block 
10:00am-10:50am (Click on linked titles of sessions to view recording/or presentation slides from the session)
| | | |
| --- | --- | --- |
| Pathway through the PhD | Dr. Julie Owen, Associate Professor of Leadership Studies in the School of Integrative Studies and past Faculty Fellow for Prov 701: Preparing for Careers in the Academy | Are you wondering what to expect during a doctoral program? Although specific requirements will vary by graduate program, this session will provide an overview of the key benchmarks of a doctoral program and will highlight available resources to help you make the most of your journey. |
| Strategies for Success in Your Master's Degree Program | Dr. Steven Harris-Scott, Assistant Professor and Assistant Director, INTO Mason Graduate Education and Faculty Affairs | Wondering what to expect during your master's program? Whether you are a part- time or full-time student, come learn strategies to make the most of your master's degree experience at Mason. |
11:00-11:35am (pick one of four sessions to attend)
| | | |
| --- | --- | --- |
| Writing Productivity: Making the Commitment to Writing | Jenny Goransson, PhD Student in Writing and Rhetoric; Graduate Writing Coordinator, Writing Center | Are you faced with large writing projects (such as a paper, thesis, or dissertation), but have trouble making progress? Join us to discuss frequent barriers to writing and strategies for overcoming them to achieve your writing goals. |
| How to Get On-Campus Employment as a Graduate Student | Kaylie Wray, On-Campus Student Employment Specialist, University Career Services | Finding a job on campus can be both time-consuming and confusing. This session is structured to help graduate students learn the different on-campus employment opportunities: student employment, university employment, and graduate assistantships (graduate professional, teaching, and research assistantships). Come find out what kinds of jobs are out there and how to find them. |
| Building an Effective Relationship with Your Mentor/Advisor | Jason McKnight, Associate Director for Graduate Academic Success, Graduate Education | Your faculty advisor or mentor is a key part of your success in your graduate program and your intended future career. Find out strategies for how to make the most of this important relationship. |
| Managing Limited Time and Multiple Demands | Vicki Dominick, Associate Director for Learning Services | As a graduate student, you are juggling multiple academic demands along with other priorities, including work, family, wellness, and more, all within a limited schedule. In this session, find out the top ten strategies for managing your time to meet the demands of graduate student life. |
11:45am-12:20pm (pick one of four sessions to attend)
| | | |
| --- | --- | --- |
| Resilience in Graduate School: Strategies to Support Your Thriving |  Alexander Harrison, MA, LPC; Associate Director, Clinical Services, Counseling and Psychological Services | Although balancing the demands of graduate school and your personal life can be challenging, there are effective, evidence-based strategies for strengthening resilience. This workshop will provide you with tangible skills that you can use to manage stress and thrive both in school and in your personal life. |
| Better & Beautiful: Skills For Working with Diverse Identities | Hamal Strayhorn, Center for Culture, Equity, and Empowerment (CCEE) Training Liaison | Working with others can be difficult at times. Throw in the complexity of working with communities that may experience the world differently that you do can make the task of working with other much more challenging. Join Hamal Strayhorn, CCEE Training Liaison, for the conversation, Better and Beautiful to learn skills and tools of how to enhance your readiness to work with others from an array of identities. |
| Building Your Network Now for Your Job Search Later | Elena Chiru, Associate Director, Career Development, University Career Services | Graduate school provides an opportunity not only to build your knowledge, but also to build your network of professional contacts and colleagues. Whether you want to expand your existing network or build a new network from the ground up, we've got tips to help you maximize the connections you'll make during your time at Mason. |
| Finding External Funding while in Graduate School | Dr. Megan Bruening, Interim Director of the Office of Fellowships | Funding is one of the greatest challenges graduate students face as they plan studies. This session will offer an overview of funding opportunities and support available to Mason grad students. The session will help graduate students learn how to identify funding opportunities from external sources, including government agencies, foundations, professional associations, and more. The session will also provide information on support and advising services available to students through the Office of Graduate Fellowships, which assists Mason students seeking external funding in support of research, training, or professional development opportunities. |
12:20-1pm Lunch Break
1:00-2:00pm Graduate Student Panel 
Cultivating a community of support is an essential task for all graduate students; connections with fellow students, faculty, and the broader campus community, as well as support from a personal network of family and friends, contribute to graduate student success and well-being. However, finding this community of support can be a challenge. Join us for a panel discussion to hear how 5 current Mason graduate students from a range of backgrounds and identities have navigated finding their communities and support systems here at Mason.
2:15-4:00pm Graduate Assistant Orientation Sessions (pick one of the three based on the job of your appointment)
| | | |
| --- | --- | --- |
| Graduate Research Assistants as Researchers, Mentors, and Professionals | Dr. Christopher DiTeresi, Director for Research Integrity, and Maureen Ashbrock, Research Integrity Project Manager | This is a session designed for graduate students currently holding a Graduate Research Assistantship, so that they may learn strategies for navigating their GRA position and their academics. |
| Building Professionalism through Your Graduate Professional Assistantship | Ann Garner, Career Advisor, University Career Services | This is a session designed for graduate students currently holding a Graduate Professional Assistantship, so that they may learn strategies for navigating their academics and their GPA position, professionalism in the workplace, professional communication, and leading meetings. |
| Starting Strong: Planning for the First Two Weeks as a GTA | Dr. Crystal Anderson, Assistant Director for Teaching Excellence at the Stearns Center for Teaching & Learning, Affiliate Faculty in African-African American Studies and Art | Serving as a Graduate Teaching Assistant (GTA) is rich professional experience, but it can also be a daunting challenge. In this session, learn tips for engaging students and giving feedback online, face-to-face classroom management strategies, working with your faculty advisor, creating a teaching persona, and more. |
Gradstravaganza Picnic
Saturday, August 20, 12-3pm, Wilkins Plaza, Fairfax Campus
Rain location: Johnson Center Flex Space (1st floor, formerly Gateway Library)
Saturday's Picnic will feature FREE food, t-shirts, games, crafts, giveaways, campus tours, and plenty of activities to enjoy! You will also have opportunities to connect with academic units, campus resources, and graduate student organizations. Families are welcome!
Please bring your Mason ID to expedite check-in. All attendees must check in at the event to receive a wristband, which will allow you to get lunch and participate in Gradstravaganza activities. Any non-Mason guests should remain accompanied by their Mason graduate student host at the event.
Parking
Free parking for the Gradstravaganza Picnic is available at Lot K. View the Fairfax Campus map. 
Get Your Mason ID 
If you do not have your Mason ID yet, make plans to come to campus early to visit the Card Services office to have yours made. The office will be open on Saturday, August 20, 11am-2pm. You have the option to submit a photo electronically in advance or to have your picture taken at Card Services. Visit the Card Services website for more information. 
In Case of Inclement Weather
A decision to move the Gradstravaganza Picnic due to forecasted inclement weather will be made on Friday, August 19. If that happens, the announcement will be posted on this webpage and on social media (@MasonGradLife on Instagram, Twitter, and Facebook); in addition, all participants registered for the picnic on Mason360 will receive an email about the location change. 
The rain location is the Johnson Center Flex Space on the 1st floor. Visit here to view the floor plan; this space is labeled as Gateway Library on the directory.  
Register for the Gradstravaganza Picnic here!