Body
by Nikita Thadani
As graduate students, we spend a ton of time reading. Whether it's for homework assignments or finding literature for our own papers, we spend a bulk of our time poring over academic texts, journal articles, and more. Unfortunately, this often means that we end up leaving little time for recreational reading (also known as leisure reading or reading for pleasure).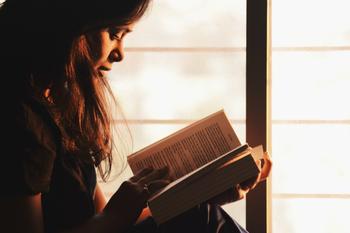 Growing up, I was an avid reader. By avid, I mean that I often used to finish a book a day! I loved reading, the escape it provided, the stories I could get lost in, and the way it created community with other readers. As I got older, in the later years of high school and the first couple of years of college, my leisure reading took a steep decline. I was buried under mountains of academic readings and papers and felt like I no longer had time to read for fun. However, when COVID hit and I moved home from college and we all collectively moved into a virtual world, I decided to start a virtual book club with a few people I knew in college. Ever since, I have returned to being an active reader, and I love it! I make time to read almost every day and I can't believe I went so long without it. But, don't just take my word for it! Here are some of the benefits of recreational reading:
Recreational reading relieves stress.

Studies have shown that reading for pleasure is an effective way to manage stress by increasing enjoyment and relaxation.1 2 3 4

It's good for your brain and cognitive development.

Recreational reading also can have benefits for your concentration, vocabulary, reading and writing skills, and improving working memory.1 2 3 4
If these reasons have convinced you to get into recreational reading (or get back into recreational reading), here are some easy ways to dive in to a new book!
Join a local book club.

Most local libraries have open access book clubs you can join! For example,

Fairfax County Libraries have a book club

that meets once a month and has all the titles listed for the year already. Additionally, you can search for local book clubs at your university (you can search "book club" in the

Mason Libraries calendar

to see the next book club meeting; the Women & Gender Studies department also is hosting a

book club

this semester). For more ideas, check out this

list

of options for finding a book club near you.

Use Libby.

Libby

is a mobile app that lets you connect to your local library to read ebooks for free! I have my Libby app connected to Fairfax County Libraries, and you use the app similarly to how you rent paper books - you can place holds, borrow, and renew both ebooks and audio books.

Check out your local used book stores.

Used book stores are a great way to find cheap books, sell your old books, and read in an environmentally friendly way! Here are some local used book stores in the Fairfax area you can check out:

Fall for the Book.

Based at George Mason University, Fall for the Book is an independent nonprofit literary arts organization that promotes reading by sponsoring a variety of year-round events and activities, the flagship of which is the Fall for the Book festival held each October.5  You can check out the Fall for the Book schedule of events

here

!

Browse Kindle deals.

Amazon's Kindle store has

daily deals

for cheap Kindle ebooks that often include new books for cheap!

Use Goodreads.

Goodreads

is a website & app where you can connect with your friends (or not) to find new books, rate the books you've read, and see what your friends are reading! Goodreads is one of my absolute favorite apps because I can read reviews of the books I want to read, find books that are similar to ones I've liked, and see books that my friends recommend to me! Goodreads also has an annual reading challenge, where you can challenge yourself to read a number of books each year to keep yourself on track.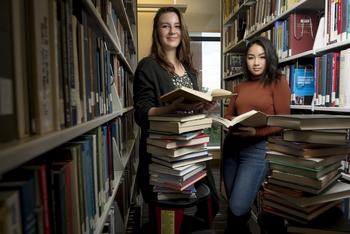 So, while you continue to devote time to academic and professional reading, I hope this blog post has convinced you (or at least reminded you) of the joys of recreational reading. Recreational reading has brought so much joy into my life and I hope it will in yours too. If you're looking for a book to get started, a few books I enjoyed recently were The Immortalists by Chloe Benjamin, Everything I Never Told You by Celeste Ng, and The Southern Book Club's Guide to Slaying Vampires by Grady Hendrix.
Happy reading!
Nikita