Body
by Bernard Atieme
As an emerging scholar, academic conferences are some of the ways to connect with people who share similar research interests with you in your field. However, being an introvert in a buzzing conference room with people busy chatting, can be scary and intimidating. Networking and building rapport with people you meet for the first time or barely know is hardest to do as an introvert. Notwithstanding this discomfort, academic conferences or social networking events are crucial for building your social capital in academia as a doctoral student. The people you meet at these conferences could become your coauthors, mentors, referees, or even your employers at some point in your professional and academic life; however, knowing the significance of networking for one's professional and intellectual growth does not necessarily make the dread of navigating the space of academic conferences go away. Here, I share some of the tricks that work for me in my experience networking at academic conferences. These suggestions are not necessarily easy to do, but they will help you use your conference time productively with less stress.
Be a presenter, discussant, or moderator
Being a presenter, discussant, or moderator at a conference puts you in the spotlight, making it easy for you to connect with people and them with you. It makes people feel they know you already, and your presentation becomes the talking point or opening line for them to initiate a conversation. Some may have follow-up questions, while others may want to share their thoughts or resources. Other people are probably interested in getting to know you better, and your presentation is their opening to engage with you. Sometimes there is camaraderie among the presenters, which could be an opportunity for you to build your network with them.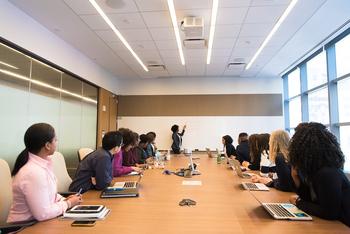 Ask relevant questions
Sometimes it can be petrifying to ask a question in a room full of intellectuals - but ask anyway, because it could open doors for networking! Asking questions is an indication that you are interested in the person's work or the subject, and that can open networking opportunities for you. Moreover, asking questions may help people find something in common with you. When asking a question, introduce yourself by name, institution, and research interest before the inquiry. That provides people with context of who you are and can help stimulate conversations with you down the line. Someone in the crowd may share your research interest and want to talk further with you about the topic. Remember not to walk away like everyone else after the presentation. Stay back and talk to the presenters or any person who might be interested in speaking with you.
Find a networking ally
Attending a conference with someone who enjoys meeting new people or knows people will make your networking efforts more effortless. They help break the ice during the introductions and allow you to come in and continue the conversation. People get to know you because of them, and you can utilize that to build your network. Sometimes you may need to ask them to introduce you to their contacts or people you want to meet, but some do it anyway, even if you do not ask them for introductions.
For some conferences, you may be the only person from your program or institution attending. When you find yourself in this situation, find someone at the conference whose company you genuinely enjoy and share a mutual interest, become their friend, and hang out with them during the networking events. If the person already knows people in the conference, utilize the person's wealth of connections; if the person does not, build your network together from scratch.
Prepare a few conversation-starting questions
Before the conference, prepare a few lines of conversation. If you have a list of scholars you would like to meet at the conference, identify what you would like to learn from them and prepare your questions in advance. Do not try to think them up on the spot because that could be difficult to do if you are not used to small talk. The same rules apply even if you do not have specific people in mind, but general networking. You need opening lines for all conversations, and questions are an excellent way to start; however, remember not to turn your discussion into a Q&A session where your newfound friend does all the talking and you ask the questions. Prepare something you would like to share about yourself with your new connections. While it is helpful to write your questions and practice them in advance, try to let the conversation flow naturally.
Make yourself approachable
The posture of your body could draw or keep people away from talking to you. People want to talk to people who are open to it. As much as possible, try to look warm, casual, and smile at people when your eyes interlock. It may motivate them to approach you and initiate a conversation. You do not always have to initiate conversations, but you must make yourself available and approachable.
Overall, always remember that you are not the only one terrified of small talk. There are people like you at the conference who are equally scared to death of talking to new people. Practice your conversations, embrace your fears, and speak to as many people as your stress level can allow. Remember that you have something interesting to contribute as a junior academic, and some people are interested to hear it! It is the reason doctoral programs exist to train emerging scholars to continue the works of the senior scholars.
Moreover, remember that some senior academics will be thrilled to know that you admire their work and will be willing to talk to you more about their scholarship. The worst that could happen is that they might not be interested in your work, and that is fine. You only need a few supporting people in your network. I hope these suggestions are helpful. Good luck with your next conference networking event.
---
Editor's note: This is our last Mason Grad Insider blog post of the 2021-2022 academic year, and my (Nikita's) last post as the editor. I will be graduating with my M.Ed. in Counseling & Development from Mason this May, and will be finishing up with my Graduate Professional Assistantship with Graduate Student Life. It has been a pleasure being a writer and editor for the Mason Grad Insider and a joy getting to be a part of the Grad Life team. The Mason Grad Insider will be back with more blog posts in the Fall 2022 semester!