Body
Welcome from Graduate Student Life!
August 31, 2022
By Cydni Young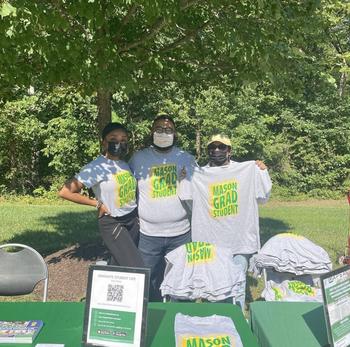 The Graduate Student Life team would like to welcome all new and returning graduate and professional students to the 2022-2023 year! Many of you are taking this time to become acclimated with your classes and graduate life, while also balancing various life obligations. At Graduate Student Life, we are here to support you and put in every effort to address your experiences and amplify your voices university-wide. This year, we are planning many exciting events, accommodating in-person and virtual preferences alike. Everything from professional and academic development, to wellbeing and outdoor adventures (ahem…rock climbing is one of them), you won't want to sit these events out. One of the platforms we utilize for widespread communication is through the Mason Grad Insider blog. The blog is sponsored by Graduate Student Life, highlighting numerous events and opportunities offered not only by our office, but by colleagues and departments across Mason's campuses. Just as a heads up, some of our star blog posts have included practicing self-care, how to take notes like a grad student, and the art of taking a nap!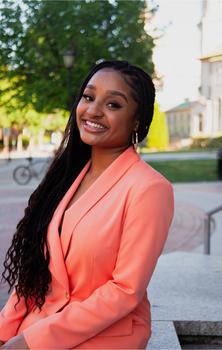 We are excited to introduce the editor and primary author of the Mason Grad Insider for the 2022-2023 academic year.
Meet Cydni Young:
Cydni is our new Graduate Professional Assistant for Graduate Student Engagement for Graduate Student Life. Her primary roles include the planning and promotion of events, creation of graphics and social media campaigns, and graduate student outreach. Cydni is in her first year of the Master of Public Health program, concentrating in Community Health Promotion. She strives to provide peace and equity to low-income families and children through health promotion and disease counseling and working towards the dismantling of existing health disparities. Prior to attending Mason, Cydni received her B.S. in Psychology from Virginia Commonwealth University in Richmond, VA. She is originally from Detroit, MI, but has lived in Fredericksburg, VA ever since she was a child. In her free time, she loves listening to music, singing, running, and spending quality time with close friends and family. 
We send the best of wishes toward all of you for an enriching and prosperous start to the school year! Keep up with our upcoming events by visiting our Grad Life Events page. Also,  follow us on our social media (Facebook, Twitter, and Instagram) and sign up for our newsletter for all Graduate Student Life updates. Take good care!
Best Wishes,
Cydni Young