In This Story
People Mentioned in This Story
Body
In 2014, Julia Mandeville was informed that she had stage 4 endometriosis. Just two years later, she co-founded the organization Barbados Association of Endometriosis and PCOS (Polycystic Ovarian Syndrome) to raise awareness, support, and research efforts toward the condition.
"When I started my PhD, I was determined to find out more about endometriosis and how it affects Black women."
Originally from Barbados, Mandeville immigrated to the United States in 2019 and started as a doctoral student in public health at Mason in 2021.
"I've been diagnosed with this condition, and I recognize that a lot of people around me don't know about it," said Mandeville. "It's important to not only educate my friends and family, but the community at large. These conditions are chronic. There's no cure, but what can help is having a supportive community around you."
Endometriosis is an enigmatic condition, she explained, that is typically defined by the presence of "endometria-like" cells found outside the uterus. The disease usually emerges between ages 11 and 16.
"If we can educate persons in that age group regardless of gender, that would hopefully be able to flow through our community," Mandeville said.
Mandeville conducted educational outreach in her Barbados community with BAEP. "Barbados is very small so it's really easy to go around the community and to a majority of the secondary schools to educate people there," she said.
But she still had to break through knowledge barriers. "It was originally thought to only affect 'career women,' non-Hispanic White women, and Asian women," said Mandeville. "That created a lot of barriers for diagnosis and treatment. Now we know better."
Although it was considered a gynecological disorder and, in some instances, does impact gynecological function, it can be found anywhere in the body.
 The only way to diagnose endometriosis is through exploratory surgery; the cause of the condition is unknown. Mandeville is developing theories for the cause of the disease with Mason researchers Jhumka Gupta and Anna Pollack of the College of Health and Human Services.
Pollack is an environmental epidemiologist who looks at chemical exposures and sexual reproductive health outcomes associated with them.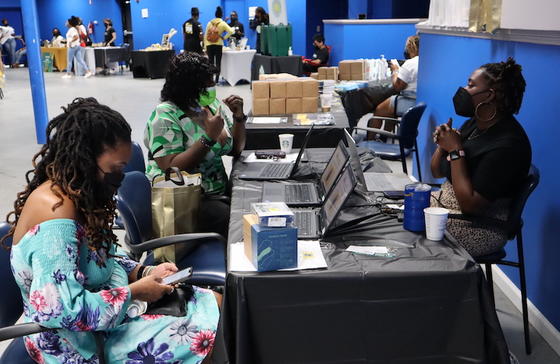 "Working with Julia is delightful," Pollack said. "She's amazing at putting together a team that has complimentary expertise to address a specific topic or health-related issue that she wants to tackle," said Pollack.
Pollack explained two studies Mandeville is leading. In one, they are collecting pilot data to learn whether survey participants would be willing to provide biospecimen to the researchers. Those would then be analyzed for chemical exposure. "This is formative research, which when done that next step will be to add that chemical component," said Pollack.
Mandeville's research on "social aspects such as race and stigma helped to bridge my and Dr. Pollack's research as well," said Gupta.
Mandeville also collaborates with the executive director of  ENDO Black, Lauren Kornegay. She connected with Kornegay, head of the Black-women-led organization that advocates for BIPOC individuals affected by endometriosis, via social media before she moved to the United States.
Mandeville said she wants to emphasize the importance of educating all communities on endometriosis.
Of Mandeville's dedication, Pollack said, "This is something that I think as a future researcher is incredibly rare."
Mandeville submitted an abstract of her research to the American Public Health Association (APHA), which was accepted and will be presented at the APHA 2022 Annual Meeting and Expo in November.
"I think we're going to be reading a lot more about Julia in the years to come," said Gupta.