Body
The Office of the Provost is excited to announce the launch of George Mason University's Graduate Division. The Graduate Division will be one of the major units of Academic Affairs within the Office of the Provost.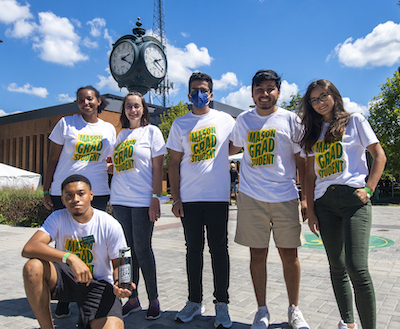 Its mission is to elevate graduate education at Mason by increasing the global impact of its graduate students and programs, fostering a collaborative culture of academic excellence, and contributing to the research productivity and the workforce development appropriate to an R1 institution. Leveraging economies of scale, the Division is designed to maximize strategic and targeted investments to augment and complement the efforts of Mason's local academic units.
The Graduate Division will serve all graduate programs and students including pre-professional master's to research-intensive doctoral students by working with the schools and colleges to provide services and communication strategy assistance.
The Graduate Division will coordinate pre-enrollment activities to increase the visibility and recognition of Mason graduate education. It will also expand central programming and opportunities to enhance the graduate student experience, refine graduate policies and procedures to uphold the quality and integrity of graduate programs, and bolster internal and external relations to elevate graduate student career readiness and placement.
The Office of the Graduate Education will officially transition into the Graduate Division during the Fall 2022 semester. During its first year, the Graduate Division will focus on unveiling a new graduate online onboarding platform, offering a university-wide graduate teaching assistant training, and starting a new mentored anti-racism and inclusive excellence mentorship program.
"The launch of the new Graduate Division is the result of a two-year university-wide team effort," said Laurence Bray, associate provost of graduate education. "It has been an honor and privilege to lead this initiative and work with so many amazing partners across campus to make the Graduate Division become a reality."
Over the next several years, the Graduate Division expects to expand its services to better support all graduate students and programs. Initial plans include creating a graduate success center to optimize student experience and engagement, as well as leveraging externally funded projects to increase graduate funding support.