Body
George Mason University's proximity to the nation's capital attracts many students interested in engaging with political and civic leaders. Recently, graduate students at Mason Square (formerly Arlington Campus) attended Movers and Shakers, a professional networking event with Arlington's business, government, and community leaders.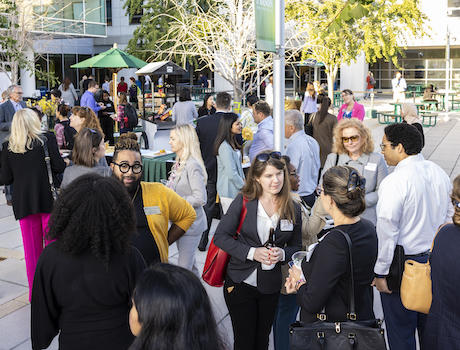 Ziad Al Achkar and Emily Crawford were among this year's student attendees. Al Achkar, a doctoral candidate in the Jimmy and Rosalynn Carter School for Peace and Conflict Resolution, attended the first Movers and Shakers event when in launched in October 2019 and was excited about its return from its pandemic hiatus. His research interest focuses on using technology and the digitalization of humanitarian aid.
"I spoke with a few people working with consulting companies in the D.C. area whose work matches up with my career aspirations," Al Achkar said. "Movers and Shakers reinforced the importance of having clear ideas about your career aspirations and being able to articulate them quickly when meeting new people and potential employers."  
Crawford is pursuing a master's in public policy at the Schar School of Policy and Government with an emphasis on higher education policy. She advocates for college affordability and accessibility and aspires to collaborate with leaders in the White House, Congress, and the U.S. Department of Education on behalf of students.
Connecting with changemakers with an impact on Arlington and the nation appealed to her. Movers and Shakers provided the opportunity to engage leaders and allowed Crawford to share her impact in the Arlington community as the Graduate and Professional Student Association's vice president of Arlington.
"It was incredible to connect with leaders from the State Department, local nonprofits making a significant difference in our community, and fellow students," Crawford said. "We are all working together to make meaningful change happen to make Arlington, Virginia, and the country a better place to live."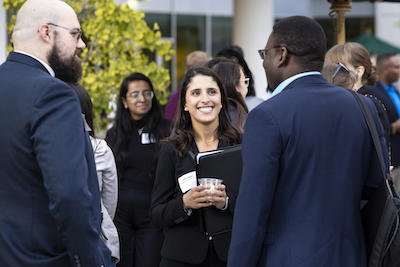 "Movers and Shakers is a wonderful opportunity to build strong connections between Arlington leaders and Mason as we undergo our expansion," said Toni Andrews, senior associate director, Community and Local Government Relations for Mason Square. "It builds awareness about current programs at Mason Square and those coming to Fuse at Mason such as the College of Engineering and Computing."
John Daniels, BA Government and International Politics '17, MPA '19, was among Arlington's leaders who networked with student attendees. Daniels is the chief of staff to 48th District Delegate Rip Sullivan, serving as political and policy advisor, legislative assistant, scheduler, manager for constituent services, and financial manager for the delegate's political activities.   
The opportunity to connect with and mentor students drew Daniels to the event, whose Patriot Pride was evident in his enthusiasm.  He encouraged students to not worry about having their lives completely mapped out post-graduation. For students interested in a career path similar to his own, Daniels advises maintaining relationships with fellow alumni and faculty, getting involved in local politics or taking on an internship on Capitol Hill or the General Assembly.
Other Arlington leaders participating in the event included Dulce Carrillo, supervisor of public engagement, Arlington Public Schools; Liz Nohra, senior director, strategic partnerships, PathForward; Anh Phan, outreach representative for Senator Mark Warner's office; Arlington County Manager Mark Schwartz; and Julius "JD" Spain Sr., community and civil rights leader, president, NAACP Arlington Branch. 
Several students won a one-on-one networking lunch with Arlington leaders thanks to a drawing held at Movers and Shakers.