Body
By Cydni Young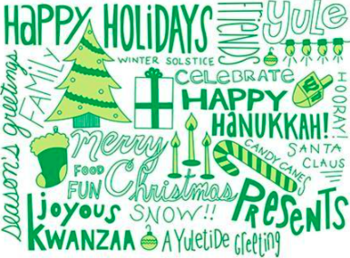 It is official… the holiday season is upon us and ever since I was little, it has been my most favorite time of the year. With the music, the cultural festivities, the food, quality time with loved ones, even the fragrances of the season, I've always thought what's not to love about this joyful season? However, although it can serve as a plethora of room for the jolliest of energy and memories, it can be a rather frantic and stressful time. We all have individual circumstances that could make this time of year either the best time ever or the most stressful time. Amidst all the holiday chaos, in whatever way that it manifests, my family and I have to find outlets that bring the joy of the season to full fruition. Whether you are traveling, cooking holiday meals, buying presents, and/or just marinating in the season as it feels good to your spirit, here are some tips to stay jolly, bright, and have fun as you approach the holiday season, however you celebrate!
In thinking about being jolly, the first thing that comes to mind connects to any holiday activities or traditions that bring YOU joy! An article by Peter Reisner, M.D., for the Mayo Clinic Health System, provides multiple ways to make your holiday season jolly, however two stood out to me:
Plan ahead for your holiday festivities!

2

Designating specific days within your schedule to approach specific obligations can truly allow you to immerse yourself in the holiday experience, without the last minute stress! Whether that's gift shopping, grocery shopping, attending holiday parties, or days for you to decompress, develop an organization plan to help with hectic holidays and have fun - which leads to another tip.

HAVE FUN!2

However you observe the holiday season, always be sure that you are incorporating activities that you truly enjoy. The holidays should serve as a time for joy and relaxation wherever you can obtain it. Do you love watching holiday movies? Do that. Do you love baking holiday treats or decorating? Do that. Do you love just doing nothing? Do that! Whatever makes you feel the jolliest, allow yourself to have that time and be the merriest you can be!
These tips can be applied in a number of ways, as long as they suit you and contribute to your version of joy during the holidays.
Although I myself enjoy the holidays and immersing myself in all the things, I recognize that I tend to fall comfortably within the realm of extrovertism and occasionally, the realm of introvertism. I thoroughly enjoy engaging in all holiday activities, the family gatherings, decorating, cooking, outings with friends; however, I do appreciate ME time for sure. Wayne Chan, from the University of Manitoba, holds a conversation for all introverts of the season and when you may be feeling "Scrooge-like" as Chan expresses.3 One main theme of advice that Chan focuses on is our autonomy over the volume of holiday festivities: you can "Crank it up or down, or just turn it off. It's your choice." 4 We have so much more control over how much we engage in the holidays than we think we do. If it has dimmed your joy more than it has brightened it, or if the festivities are just not your thing, you CAN bow out and engage in the ways that make you feel the best. This could mean forming a new holiday tradition, taking a moment to yourself during the holiday party, or simply enjoying a hot drink in front of the fire for some downtime after the festivities. No matter what side of the coin you are on, there are ways to get the most out of the season, even if it means playing to the beat of your own drum.
The holidays truly manifest in different ways for all of us. There is no one way to celebrate and you may choose not to, it is your choice! Either way, you deserve to feel as jolly as possible and enjoy the season as you see fit. Take this time to reflect and identify those people, those things, that warm your spirit like nothing else, surround yourself in that warmth and know you deserve to be your jolliest self. In all realms of holiday festivity and celebration, I wish you the jolliest and brightest holiday season, you deserve it!
Take care of you and Happy Holidays!
Best of Wishes,
Cydni Young
---
1 California AfterSchool Network (2019, December 11). CAN Newsletter – Happy Holidays From CAN! (Image). CAN Newsletter,  https://www.afterschoolnetwork.org/can-newsletter/can-newsletter-happy-holidays-can. 
2 Reisner, Peter (2019, December 4). 9 ways to make your holiday season jolly. Mayo Clinic Health System. https://www.mayoclinichealthsystem.org/hometown-health/speaking-of-health/9-ways-to-make-your-holiday-season-jolly.
3 Chan, Wayne (n.d.). Parties? Bah, Humbug! An Introvert's Guide to Staying Jolly During the Holidays. University of Manitoba. http://home.cc.umanitoba.ca/~chanws/holiday-introvert.html.
 4 Ibid.