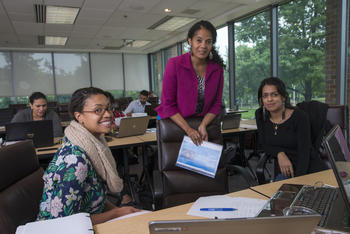 SPARK—Scholars Promoting Access, Representation, and Knowledge
SPARK provides a welcoming and safe space for students who don't always feel reflected or supported on campus or have faced or experienced social, economic, and historical challenges. The mission of the group is to bring doctoral and MFA students together and promote a sense of community through resource and information sharing and access to mentorship and networks that positively impact educational and career outcomes. The group also serves to increase access to critical services based on unique identities or specific needs. Finally, the SPARK Affinity Group names and addresses systemic issues that hinder the likelihood of educational success of Black/African American, Latinx/Hispanic, Indigenous, Biracial, Multiracial, Asian, Asian American, Pacific Islander, African students as well as working students with families, military and veteran students, students with disabilities, and first-generation students. This list is not exhaustive. If you face or have experienced marginalization, this group welcomes you!  
To join SPARK meetings or its listserv, contact Ms. Amy Ayres or Dr. Millie Rivera. They will send you the links for the meetings and add you to the listserv (if you so desire).