In This Story
People Mentioned in This Story
Body
By Cydni Young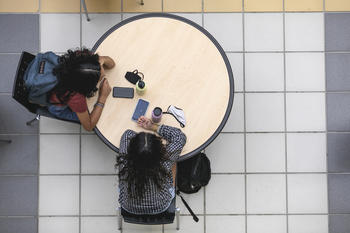 Prior to beginning my journey in graduate school, I experienced quite a few moments where the school work seemed to reach the mountain tops, all the while life matters overflowed like never before. All concepts and language no longer processed and the fuse I once had in the beginning, slowly fizzled out. These moments are no less than normal; however, we all are entitled to, what I like to call, "woo-sah" moments to truly set your worries free and form a refreshed you that is ready to take on the world. With that being said, you never know who is carrying this weight. Being a new graduate student, I was quickly reminded that it takes a village to get you through the masses of work and life stressors, which there's immense beauty in caring for one another through your shared academic journeys. As you begin to develop those new connections in class and form lasting relationships with your peers, take a moment to memorize and apply these three formulas to calculate the most fruitful outcome for academic success and well-being!
Questions + Study Group = Wellbeing & Success!
One of the best ways to develop closer and more fruitful relationships with your classmates is by forming a study group! Study groups provide a safe space for you to unravel challenging course concepts and care for your mental health with peer support, all while keeping yourself on track. This was one of the best decisions I have made since starting my graduate school journey and has provided me with much needed mental clarity and just a space to gain another realm of perspective on assignments. Another success story? In one of our previous posts by Austin A. Deray, "Study Groups: The Thing to do in Graduate School", he credits his own working/study groups for holding him accountable, creating moments of well-being, and gaining new perspectives from the diverse backgrounds of his peers! Take that first step and connect with your classmates to form this great method of social support, to truly learn and grow with one another. You can even utilize Mason's fantastic resources to join a group either within your program/department or university-wide. 
Events + Friendships = A Breath of Fresh Air
One of the most memorable and refreshing moments I have had so far in my grad school journey was attending my department's welcome event, where I found my current cohort of peers. We continued to make time during the week to do anything from studying to attending events on campus. Taking these breaths to refresh my mind and renew my strength has helped to keep me on the straight and narrow with my coursework, rather than powering through on my own and burning all of my fuel. Any time that you can attend a campus event, whether that be in your respective department or university-wide, jump in full force and allow yourself to decompress and unwind. We all deserve a break with those we truly aspire to water and grow with!
Rough Days + Kind Gestures = Brighter Days!
Have you ever had a day when all of your energy has depleted and despite this, coursework refuses to let its foot off of the gas? How did that feel? How would you have wanted to be supported? I myself have had my fair share of those days, but it was the simplest of acts that instantly brought my mood and outlook back to center…receiving a simple message of kindness, a "You've got this!", "I am so proud of you!", or just a "How are you?", which meant more than anyone could have known. Soon after, I received a burst of energy and inspiration to complete the toughest of assignments, to keep moving forward. The simplest of acts could elevate one's mood and push them towards academic success and improved well-being. We all have different battles that we face and they all affect us differently, yet we very often remain blind as to what exactly the lives of others' entails. While still caring for yourself and respecting boundaries, check in with your peers and keep them uplifted as often as you can. 
So there are the formulas. No, they may not serve as the answer to each and every social and academic barricade that could form. Please remember that each journey is different and there is no universal formula. However, you have the power to flip each one into a method that works for you. All things take time… I for one am still making peace with that, but know that this time does not have to be endured alone and confide in your tribe! I really hope you have enjoyed this 'math' lesson and remember: wellbeing + support = success! Take care of you!
Best of Wishes,
Cydni Young
---
Deray, Austin A. (2019, October 9). Study Groups: The Thing to Do in Grad School. Mason Grad Insider Blog: Graduate Student Life: George Mason University: Study Groups: The Thing to Do in Graduate School.